This slideshow requires JavaScript.
In 2014 ben ik gestart met een doka (Donkere Kamer) cursus in het kunstencentrum.
Dit beviel zo goed dat ik na een flink pauze vanaf half 2015, weer gestart ben medio 2016.
Aangezien ik de cursus al gevolgd heb, mag ik vrij werken. In het begin was het een rolletje vol schieten om weer wat nieuw werk te hebben. De eerste avond was het vooral inkomen en had ik veelvuldig het "Oja-gevoel".
Ik werkte alleen nog met de Nikon F1, de oude camera van mijn schoonvader. Weer even wennen aan analoge fotografie. Snel een foto maken is er niet bij. Eerst met de lichtmeter kijken welke waardes je moet hebben en daarna de camera instellen. Dan begint het handmatig scherpstellen. Met fotograferen leer je al kijken, met analoge fotografie nog meer.
This slideshow requires JavaScript.
Het tweede rolletje was een spannend verhaal. Deze kreeg ik van onze instructeur met de mededeling; kijk maar of het werkt Anke. Het rolletje was in 1988 over de datum gegaan. Dat is dan een spannende ontwikkel sessie van het rolletje, kijken of er überhaupt wat op staat.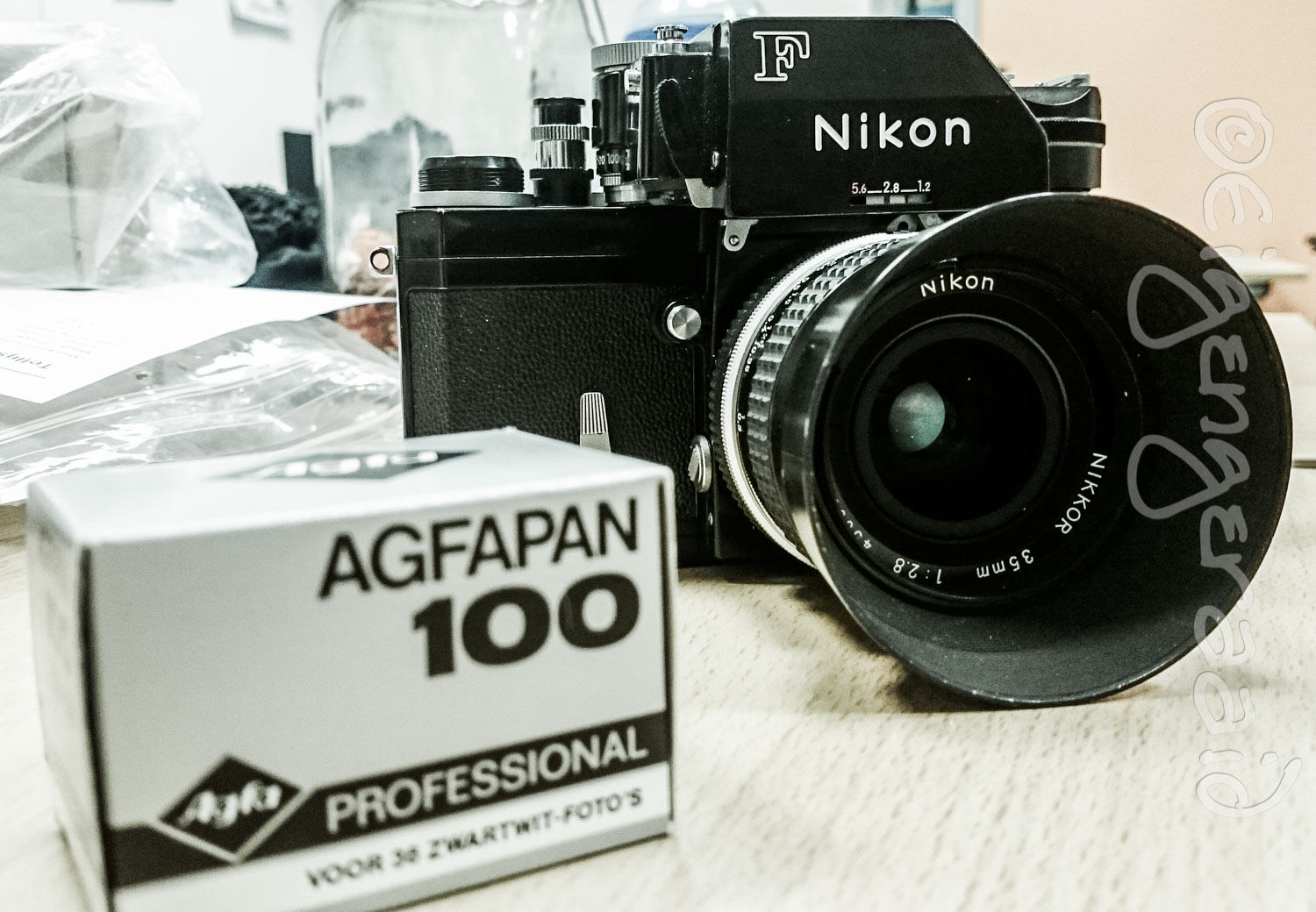 De ontwikkelvloeistof was aardig donker verkleurd, een goed teken.
Dan komt het moment na alle processen dat het filmpje van de ontwikkelspoel afgehaald wordt en uitgehangen wordt in de droogkast. Dan heb je tijd om te kijken of er iets op het filmpje staat.
Al snel zagen we de foto's op het negatief. Een dikke meevaller.
This slideshow requires JavaScript.
De resultaten waren ronduit GAAF te noemen. Een mooie korrel in de foto's, het scherp stellen begint steeds beter te gaan en het werken met een analoge camera is gewoon erg leuk om te doen. Een rolletje van 36 opnames vol schieten is hard werken. Je wil graag 36 verschillende onderwerpen met foto's die ook nog eens perfect gelukt zijn. Een hele andere manier van fotograferen zoals we met digitaal gewend zijn.
Ik zal de voor de verschillende camera's een gedetailleerde beschrijving geven in aparte menu's
*Update* Inmiddels is mijn collectie aardig gegroeid en geniet ik nog met volle teugen van mijn analoge werk
De foto's mogen alleen gebruikt worden met aanwezig ©Eigengeraaid logo, in origineel formaat en met naamsvermelding. De foto's mogen niet gebruikt worden voor commerciële doeleinden zonder toestemming van Eigengeraaid. Voor vragen kunt u contact opnemen met info@eigengeraaid.nl
The pictures can be used with ©Eigengeraaid logo, original size/cut and with name tag. The pictures can't be used for commercial purpose without permission from Eigengeraaid. For questions: info@eigengeraaid.nl