This slideshow requires JavaScript.
Al geruime tijd ben ik bij een besloten Nikon groep op Facebook.
Allemaal fotografie liefhebbers met (natuurlijk) een Nikon camera in het bezit. Het gros komt uit Engeland, maar dat mag de pret niet drukken. Ik hoorde een tijd terug in de groep dat twee heren naar Nederland zouden komen ergens in het jaar. Ik had zelf april in gedachten, maar recentelijk bleek dat twee heren in maart naar Nederland zouden komen.
Aan de heren, Graham en Mark nagevraagd welke dag ze wat wilde fotograferen. Amsterdam stond voor de zaterdag op het programma. Gezien mijn grote antipathie tegen het OV en me niet heel veilig voelen met een tas vol fotografie spullen in Amsterdam sloeg ik deze dag af. Voor de vrijdag stond er Haarlem gepland. Na heel wat over en  weer gechat, mijn Engels is met sprongen vooruit gegaan, kwam ik op het snode plan om de vrijdag vrij te vragen op het werk.
Vrijdag morgen, normale tijd op, kids naar school, door richting stal om daar de stal van mijn allergrootste vriendin schoon te maken. Geplande tijd richting Zandvoort, naar het hotel van de heren, stond op kwart voor 10. Gelukkig ben ik altijd wel ergens wat later mee en was de speling vrij ruim, zat ik na een tankbeurt om 10u goed en wel op de weg. Een reis van 1 uur en 3 kwartier voor de boeg. Bakste thee bij, muziek hard aan en genieten van het stuk rijden.
Aangekomen in Zandvoort, plekje gevonden en de parkeerautomaat volgegooid, kwam ik de heren tegen. Ik herkende ze meteen. Natuurlijk van foto's en hoe kan het ook anders, overal hingen camera's rond hen. Mezelf netjes voorgesteld. De heren gingen inchecken en ik kon snel even naar het toilet. Altijd fijn na zo'n stuk rijden.
Even wennen aan het daadwerkelijk Engels spreken en niet schrijven, waren we vrij snel ready to go. Op naar Haarlem.
Daar aangekomen was het een parkeerplekje zoeken. Damn, wat een parkeerprijzen hanteren ze aan die kant van Nederland. Maar goed, de auto stond veilig en we konden op pad.
Veel gelachen, veel gefotografeerd, verschillende dingen geproefd, waaronder haring voor Graham, HEMA rookworst voor beide en een lekkere speltkoek.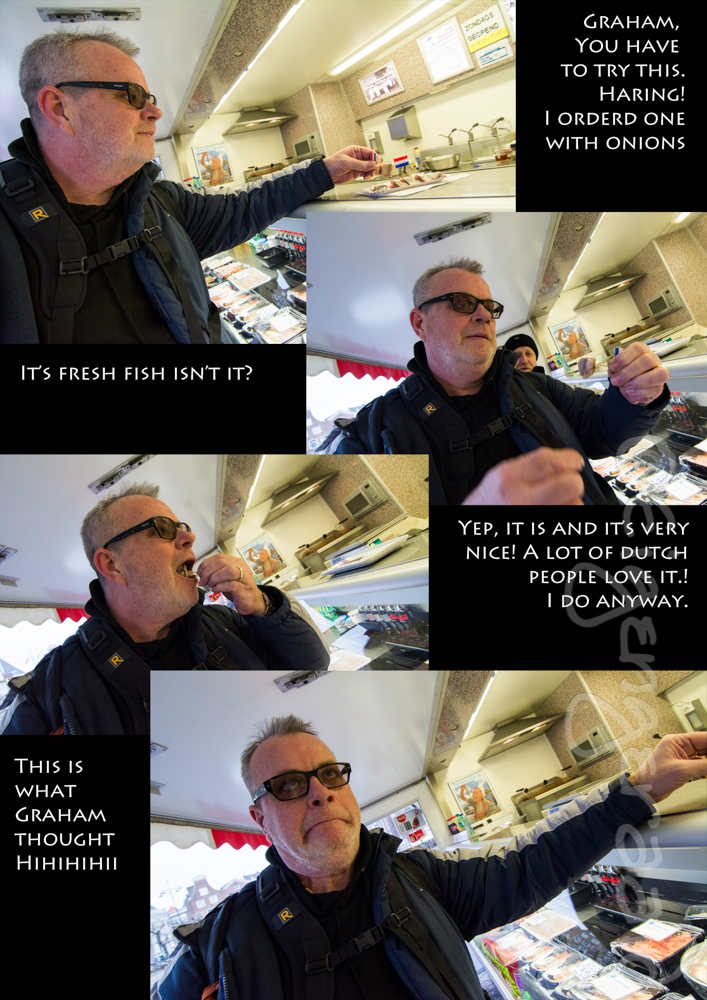 Na de lekkere versnaperingen, hebben we een treinstation opgezocht. Graham is helemaal gek van treinen. In Nederland hebben we dubbeldekkers en dat was toch wel erg speciaal. Hij stond nog net niet te stuiteren, hihihihi.
Ik ben wat aan het fotograferen geweest en na bijna bevroren te zijn, hebben we met z'n 3e besloten om een kroegje op te zoeken waar we af zouden wachten op de duisternis.
Het was er gezellig en warm. Na een paar bakken thee werd er besloten om er ook wat te eten. Het smaakte heerlijk en na helemaal opgewarmd te zijn, hebben we de spullen bij elkaar geraapt en zijn weer naar buiten gegaan.
Muts lekker over de oren, handschoenen aan, statief opbouwen, tips van de heren aanhoren en aan de gang gaan.
Mark had een dikke error op zijn camera en kon het euvel niet vinden. Alles nagekeken, contactpunten schoongemaakt, hield de error aan en Mark baalde steeds meer. Ik mijn foon er maar eens bij gepakt en googlen. Ik vond iets dat ik dacht; euhjs daar kunnen we wat mee Natuurlijk in het engels en tijdens mijn voorlezen, voerde Mark de tip uit. Dat was het probleem. Een (begrijpelijk) blije Mark en we konden aan de gang.
Na een lange dag vonden we het rond 21.00u allemaal welletjes. De heren heb ik netjes in Zandvoort afgezet. Terug naar huis met een lekker muziekske. Lang leve de carkit, nog heerlijk een half uurtje met mijn man zitten kletsen.
Al met al wat het een super gezellige dag. Graham en Mark zijn super gezellig. Ik hoop ze dan ook zeker nog een keer vaker te ontmoeten.
For my English friends:
Some time now I joined a closed Nikon group on Facebook.
We all love photography with Nikon cameras. Most of the people in the group are from England. A while back I heard that some of the group members would visit the Netherlands. I thought April, but it became March.
Graham and Mark would come together to the Netherlands. I asked them what program the had planned for the weekend. At Saturday they would visit Amsterdam. I really don't liker trains and go alone to Amsterdam with a lot of camera gear, wasn't my thing. But on Friday they planned to go to Haarlem. A lot of talking on the chat, my English became slightly better, I came up withe the plan to ask a day off.
Friday morning, normal time out of beth, kids to school, clean the stable of my biggest girlfriend (horse). About 9.45h I planned to drive to Zandvoort. Get some petrol in the car and I was ready to go. Had to drive 1 hour and 45 minutes. A cup of tea in the car, music very loud, I enjoyed my ride.
When I arrived in Zandvoort, found a spot for my car. I saw Graham and Mark at the other side of the road. I reconniced them from pictures and they carried a lot of Nikon camera's with them. I walker toward them and introduced myself. The guys checked in the hotel and I could use a toilet, nice after a long ride in the car.
I had to get used to talk English, to write is easier for me. We were good to go to Haarlem.
In Haarlem we parked the car in a underground carpark. Damn, the prices for a carpark in this side of the Netherlands are a lot higher than back home. But stop nagging, the car was safe and we could go into Haarlem.
We laughed a lot, made a lot of pictures, tasted different Dutch food, like Haring; Dutch fresh fish. Also a HEMA sausage en some nice cookie.
After all the nice food, we went to a train station. Graham loves trains. In the Netherlands we have two layered trains, normal here but Graham almost jumped up and down when he saw them, hihihihi.
I took some pictures, almost got frostbites (ahum) and after a while we all went to a bar to get it warm again.
After some drinks, we had something to eat. When everybody was ready, we went outside again to take pictures in the dark.
A hood at my ears and I was ready to go. Tripod out, got some tips for the guys and I was ready to take some pictures.
Mark got a error on his cam, couldn't find the problem. After I while I searched google for him on my phone, we found the solution. Mark was a happy guy again.
After a long day of taking pictures, we went back to the car at 21.00h
I brought the guys back to Zandvoort. On my way back home I had the music on. Love my carkit, had a nice talk with my husband on the phone for 30 minutes.
I had a really nice day. Graham and Mark are unto go around with. I hope to meet them again in the future.
Thanks guys for the great day. Enjoyed it a lot!
Want to see more pictures, check them here!